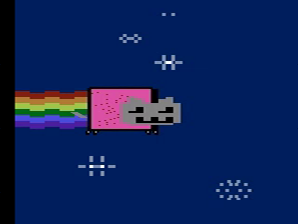 Prod pages: [pouet.net] [demozoo.org]
Date: 2011-08-15
Party: Evoke 2011
Compo: Wild demo
Platform: Atari VCS
Rank: 6th
Solo work

Everyone likes Nyan Cat!
.nfo
            Nyantari 2600
========================================

Exactly what it says on the tin:
Nyan cat on the Atari 2600 (aka VCS).
Released at Evoke 2011.
By Tjoppen.

History
-------

This intro was coded in little over one week,
from Friday at Assembly Summer 2011 to Saturday
at Evoke 2011 (5/8 - 13/8).

Thanks
------

Paul Slocum for his excellent music player.
Brandon Carrita for transcribing the notes.

My previous VCS releases
------------------------

Bell Hopper (a Winterbells demake)
http://pouet.net/prod.php?which=57426

Contact
-------

Mail, slightly obfuscated to avoid spam:
se . gamedev @ tjoppen

Note that I have change e-mail since then.