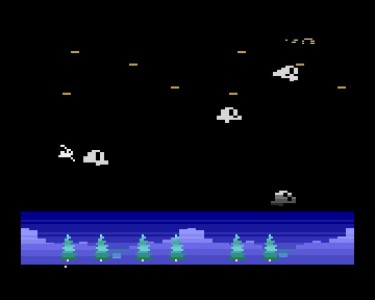 Prod pages: [pouet.net] [demozoo.org]
Date: 2011-08-05
Party: Assembly Summer 2011
Compo: Gamedev
Platform: Atari VCS
Rank: 5th
Solo work

This was my first foray into coding for the Atari 2600 VCS. I had previously done some experiments with the NES, but never released anything. One nice thing about releasing this at Assembly was that everyone in the game compo got free pizza, sauna and beer courtesy of Rovio!
This game also ended up being included in The Byte Before Christmas cartridge in 2014.
.nfo
Bell Hopper for the Atari 2600
by Tjoppen

Bell Hopper is a demake of the flash game Winterbells by Ferry Halim.
Jump off the ground, then go higher by touching the bells and birds.
Score by touching bells. Touching a bird will double your existing score.

Mail: se . gamedev @ tjoppen

Note that I have change e-mail since then.